Have you noticed the dozens of different activity trackers? You can choose from a wide range of wearable devices such as the Nike Fuel Band (tracks running stride) to WiThings fitness scale (weight/mass and BMI).  I personally use the FitBit Flex band to track my daily steps and sleep patterns.  Most of my friends also use FitBit Flex, so I'm motivated to wear this band all day, every day.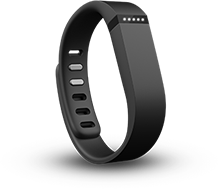 The Problem
The Flex is actually a little module that fits inside an adjustable silicon wristband, with a press-in latch.  FitBit provides one large and one small band.  Unfortunately, my large band as worn out and replacements cost $30 for a pack of three, in colors I wouldn't really wear.  I decided to make my own band, on the cheap, using these criteria:
Uses inexpensive silicon bracelets, without cutting
Holds the Flex snug, while exposing the lights
Strong and flexible  so I can remove the Flex for charging
Can be worn while sleeping, without hurting anyone
I decided to sandwich the band between the FitBit Flex and a 3D printed carrier.  I wanted the carrier to be rugged enough to insert/remove the FitBit for charging many times and snug enough to ensure it doesn't simply fall out.
The Model
My design is a simple platform with four short posts at the corners and space for the band and FitBit.   I started by modeling the FitBit Flex module in OpenSCAD, as a polyhedron. I had to measure the FitBit, plot the points in space, and draw triangles between them. This was incredibly hard to do, even by first drawing it on paper. I'd use a visual CAD program like Sketchup or TinkerCAD if I had to do it again.  Once I had this model, I created the base and posts (very simple) and SUBTRACTED out the volume of the Fitbit and silicon band (1.5mm thick), leaving behind a lovely little widget.
[stl path="skjain2/3DModels/master/fitbit%20si%20bracelet.stl"]
My Thoughts
I learned a lot about Design for Manufacturability in printing this widget. It took me 8 tries to print this correctly. Here's my notes:
You want to print layers ACROSS (orthogonal) areas of stress, rather than INLINE. My first few prints started from the base (printing "flat") and printed the posts up. The posts broke while cleaning support lattice every single time.
MeshMixer 2.0 provides better support mesh than MakerWare for this kind of print. I imported my model into MeshMixer, stood it on one end and used the Overhang analysis tool to automatically build "tree" supports.  Not only were the posts stronger from printing vertically, but it was easier to remove the support material.
Printing upright saved a LOT of material. Including the raft, supports, and widget, printing flat took 2.9 grams plastic, vs. 2.4 grams upright.
To learn more about MeshMixer 2.0's overhangs, check out this amazing video.
Photo Gallery
Note: Thanks to Nasty Clamps for the bands. They have a rad product I used to take these pics! 

Technical Specs

Printer: MakerBot Replicator 2
Software: MakerWare (using MakerBot slicer), MeshMixer 2.0
Settings: Standard mode (15% infill, 0.2mm layer, 90mm/s), Rafts enabled, Supports disabled.
Print Time: 20 minutes
Material: Translucent Black 1.75mm PLA
Mass (Weight): 2.4 grams (0.005lbs)
What's Next
This widget solves one of my own problems. Here's what I'm planning to do with it:
Add a fully printed strap
Make a version that can be laced up in a shoe
Make a weather-proof version with MakerBot's flexible filament